Aight this is something I'm rather fond of. hopefully with a new forum will come new lifeblood for this pastime. base concept is this. pick a character, give him stats, make him a full moveset, complete with level, taunts, unique traits, Final Smash, whatever. I'll start by putting up a base to build it off of, and I'll probably post one myself tomorrow, or some other time. not now though. It can be anyone, I don't care if they're video game characters, anime characters, book characters, or made up characters. If you'd like to see this guy in a fighting game, post him. make it as detailed as you want, no particular need to go into as much detail as I've got here.

Name:
Strength: */5
Speed: */5
Weight: */5

A:
AA:
AAA:

Forward A:
Down A:
Up A:
Dash A:

Forward Smash:
Down Smash:
Up Smash:

Air A:
Forward Air:
Down Air:
Up Air:
Back Air:

B:
Forward B:
Down B:
Up B:

Grab:
Grab A:
Forward Throw:
Down Throw:
Up Throw:
Back Throw:

Shield: (If you want something special)

Final Smash:

Stage:

Taunt 1:
Taunt 2:
Taunt 3:

Victory 1:
Victory 2:

Anything of note about the character.
You brought back create a character! I'll do this as soon as I can, maybe bring back my Bub and Bob one.
Writer





Brawl Code

: Wi-fi hates me :(


Posts

: 92


Join date

: 2009-12-02


Age

: 23


Location

: In the corner singing the Emo Song



Name: Little Mac
Strength: 4/5
Speed: 3/5
Weight: 3/5
A: Jab
AA: Two jabs
AAA: Simple Jab combo
Forward A: Stronger jab
Down A: Hook
Up A: Fast Hook
Dash A: Running Punch
Forward Smash: Strong Punch
Down Smash: Strong Hook
Up Smash: UpperCut
Air A: swipes at both sides
Forward Air: Air punch?
Down Air: With both arms strikes an opponet(meteor smash)
Up Air: mini uppercut
Back Air: Back hand hit
B:Charge Punch(similar to D3's Mechanicle hammer)
Forward B: Machine gun blows(as seen in Super pinchout)
Down B: Counter-attack(similar to marth and ike's down b)
Up B: Jump Uppercut
Grab: Grab?
Grab A: starts hitting the opponet
Forward Throw: simple throw
Down Throw: Punches the opponet in a foward-down position
Up Throw: Punches upwards
Back Throw: simple throw backwards
Final Smash: Star Punch(Potentinal to Kill the enemy in one shot)
Stage:Minor Circuit Ring
Taunt 1: Little Mac does a little dance
Taunt 2: He pulls out his champion belt and shows it off
Taunt 3: Pretends to hit himself
Victory 1: Raises his arms in glory and pride
Victory 2: shows of a combo then looks at the screen
*eh not the best moveset, but still. this guy NEEDS to be playable in the next smash bros game fo sho
_________________
Global Moderator





Brawl Code

: 3652 0222 3577


Posts

: 74


Join date

: 2009-12-03


Age

: 27


Location

: California



its not bad for a first time. trust me, I've seen worse. As promised here's one from me. One of my favorite candidates for Brawl was always Dark Samus, half because she kicks ass and half because Metroid needs more exposure in the Brawl universe. One character doesn't cut it. So here's a moveset of her. She doesn't technically walk in my moveset, she floats across the ground.
Name: Dark Samus
Strength: 3/5
Speed: 4/5
Weight: 4/5
A: Backhand (DS swings at the enemy with the back of her right fist, twisting her body in the air)
AA: Hook (completing her twist in the air she does a hook punch with her left fist)
AAA: Mid Kick (completing a second twist, she does a mid-level kick, knocking opponents away before returning to stance)
Forward A: Strong Hook ( DS does a strong hook with her left fist)
Down A: Leg Sweep (DS sweeps her gun arm along the ground, tripping opponents in front of her)
Up A: High Kick (DS pulls her leg back and swings it high, twisting her body with her leg)
Dash A: Heavy Punch (DS pulls back her gun arm and slams an opponent in front of her into the ground, moving past the opponent)
Forward Smash: Two Hand Smash (DS holds both hands together and slams the opponent away)
Down Smash: Leg Drop (DS does a forward somersault in the air, bringing her leg down on the opponent)
Up Smash: Leg Slam (DS does a backward somersault, kicking the opponent skyward)
Air A: Left Punch
Forward Air: Right Punch
Down Air: Drop Kick (DS pulls her leg back and kicks opponents below her, acts as a spike)
Up Air: Somersault Kick
Back Air: Back Kick
B: Spray Shot (DS releases a heavy spray of small particles in a 15 degree fan in front of her. must be hit by several particles to deal damage. heavy damage in close range, less at range. can be adjusted up and down)
Forward B: Strong Missile (DS charges up a her arm cannon, then releases a powerful missile)
Down B:Meteor Slam (DS rises into the air curls into a sphere, then launches herself forward and slightly downward at an angle. minor explosion on impact with ground)
Up B: Phazon Storm (DS dissolves into a cloud of Phazon particles, which can be moved in any direction by the player for 3 seconds. light damage dealt to targets touched by the cloud. medium damage and knockback to targets in cloud upon reforming. 1 second downtime upon reforming)
Grab: Dark Samus grabs target by the throat.
Grab A: DS squeezes the target's neck
Forward Throw: DS pulls the target behind her and then throws him forward.
Down Throw: DS throws the target to the ground, then fires 3 bullets into him.
Up Throw: DS tosses the target into the air, then releases a short spray burst toward him.
Back Throw: DS turns around and hurls the opponent away.
Shield: Phazon Shield (nothing special, just a round shield that looks like Phazon)
Final Smash: Phazon Overload (DS rises into the air and a transparent shield of Phazon surrounds her. Can float freely and has an altered B moveset, A moves cannot be used in this form.
B: Fires 10 projectiles that does mid damage on impact and have strong homing.
Forward B: Fires 5 Phazon Missiles that explode on impact and have decent homing and strong damage.
Down B: Creates a pillar of Phazon in the area around herself, doing mid damage and powerful knockback.
Up B: unused.
Stage: Dark Aether (A dark landscape with scattered platforms. Light crystals appear on each platform and on the ground, and stepping outside of the field of these crystals will cause slight damage over time. Ing will appear outside of the light fields on occasion and fire attacks into the field. can harm players and if the attacks hit a light crystal, it will temporarily go dark.)
Taunt 1: floats upward and cackles maniacally.
Taunt 2: looks at her gun as it glows blue with energy.
Taunt 3: rises into the air with her arms out to her sides as electricity arcs from her hands to the ground.
Victory 1: Taunt 1
Victory 2: Taunt 2



Posts

: 76


Join date

: 2009-12-08


Age

: 22


Location

: In the closet



cool, gonna make a moveset?
I'm gonna make a moveset real quick before I go to bed, I'll edit this post to get it.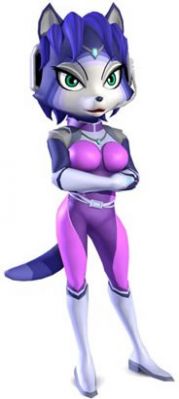 Although I have a love/hate relationship with Krystal, if any other Star Fox chars got in, she'd be the next one in. I'm styling her slightly like Fox, but only a little, due to the fact hat he mos likely as the one to teach her how to fight.
Name: Krystal
Strength: 3/5
Speed: 4/5
Weight: 2/5
A: Forward Thrust with Staff
AA: Lifted into upward slice.
AAA: Slammed down, and if repeatedly pressed staff is spun
Forward A: Karate kick forwards
Down A: Leg sweep
Up A: Stationary front flip (Like Sonic's taunt)
Dash A: Fox's Double Kick (Fox's dash)
Forward Smash: Forward Palm Thrust (Like a punch without fist.)
Down Smash: Ground Quake (Lifts staff over head, proceeds to jump and slam it down and cause a blue shockwave that reaches out in both directions.)
Up Smash: Upwards Stab wih Staff
Air A: Staff Spin
Forward Air: Forwards Kick
Down Air: Cranium Crush (Lifts feet to stomach and holds for a second, then slams down. If she connects with a player, she gets a small 1/2 jump immediately.
Up Air: Backflip
Back Air: Turning Palm Slam (Turns to camera with arm flying outstretched in other direction.
B: Fireball Shot (Similar to Wolf's blaster, damage possible from staff and can't be readily spammed.)
Forward B: Frosty Wind (Positions staff in front of her and shoots an icy blast forwards. Like Ice Climbers Down-B and can freeze people after a few moments.)
Down B: Split Kick (Fox's Down Smash)
Up B: CloudRunner Save (One of the CloudRunner tribe swoops down and catches her in its claws, and after a few seconds of up and forward flight, it drops her.
Grab: She places a hand on them, and snakes her way around, holding her staff longways against their neck.
Grab A: Pulls staff back as her knee digs into their back.
Forward Throw: Shoves them forwards with tip of staff, forcing them to ground
Down Throw: Slams them into ground and digs staff into the back of their neck.
Up Throw: Fox's Throw (Throws Fox upwards and shoots a single fireball upwards at them)
Back Throw: Judo backwards roll (Sends enemy flying backwards)
Shield: Blue Shield (She ducks, staff sending an aura around her body)
Final Smash: Full-Fledged CloudRunner (The CloudRunner returns, allowing Krystal to ride it and shoot fire with A. Using B will throw her staff, and the CloudRunner WILL ALWAYS fly to the place thrown to retrieve it. If thrown off screen, it's a forced FS finish.)
Stage: Krazoa Temple Top (Top of Krazoa temple with a catwalk through hole in center, the Krazoa statue in the back. Every 2 minutes, the Krazoa statue will lift up and fly away, an arwing flying through. If any player misses the jump, they will lose a life, but then you'll be taken to a fight between Andross and James McCloud in space. During this time, a Zero Gravity effect takes place, and your movement is determined by which direction you tilt analog stick. You can not use ground moves anywhere here except on Arwing. There are projectiles from Andross. Occasionally a suction will take place, and all players will have to fly away from the center of the screen. If they fail to do so, they'll take 20% damage and be spat out in a random direction by Andross.
Taunt 1: Staff Twirl (She Twirls staff and holds it in a diagonal angle, tip pressing against ground to her side.
Taunt 2: Staff Raise (Raises Staff into air before spinning it back down and retracting it)
Taunt 3: Overwhelmed (Places a hand to her temple, shaking it off after a few seconds.)
Victory 1: Taunt #1
Victory 2: Tears (She brushes tears from her eyes and turns, walking away.)
Last edited by Naten2006 on Thu Jan 07, 2010 6:34 pm; edited 1 time in total
Writer





Brawl Code

: Wi-fi hates me :(


Posts

: 92


Join date

: 2009-12-02


Age

: 23


Location

: In the corner singing the Emo Song



'nuff said powers, activate



basically i mean no



Posts

: 76


Join date

: 2009-12-08


Age

: 22


Location

: In the closet



Finished it, forums killed it last night.
Writer





Brawl Code

: Wi-fi hates me :(


Posts

: 92


Join date

: 2009-12-02


Age

: 23


Location

: In the corner singing the Emo Song





Similar topics
---
Permissions in this forum:
You
cannot
reply to topics in this forum